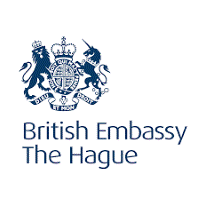 Trade Policy Advisor (NLD19.172) - British Embassy
Den Haag, ZH 2514
View Vacancy - Trade Policy Advisor (NLD19.172)


The British Government is an inclusive and diversity-friendly employer.  We value difference, promote equality and challenge discrimination, enhancing our organisational capability. We welcome and encourage applications from people of all backgrounds. We do not discriminate on the basis of disability, race, colour, ethnicity, gender, religion, sexual orientation, age, veteran status or other category protected by law. We promote family-friendly flexible working opportunities, where operational and security needs allow.
Job Category  
Department for International Trade roles
Job Subcategory  
Department for International Trade (DIT)
Job Description (Roles and Responsibilities)  
The British Embassy in The Hague is looking for a Trade Policy Advisor to join its Department for International Trade (DIT) team on a one-year fixed-term contract.
The Department for International Trade (DIT) promotes British trade and investment around the world; helps to build an appetite for British goods and services globally; and works to encourage foreign investment into the UK. DIT also brings together policy, promotion and financial expertise to break down barriers to trade & investment and to help businesses to succeed. DIT Netherlands works with both Dutch investors and British companies doing business in The Netherlands across the main business sectors of the economy. For more information about DIT please follow the link.
The successful candidate will strengthen our Trade Policy capability in The Netherlands, will support existing DIT and FCO staff to work on strategic market access and trade policy issues. This includes identifying the trade policy aspects of wider political issues, collating evidence of market barriers and developing a strategic overview on barriers to UK businesses and liaising with Whitehall colleagues and other partners to develop appropriate policy responses.
MainDutiesandResponsibilities:  
Develop and share understanding of trade policy priorities and identify emerging trade barriers;

Collate and analyse market barriers and trade policy issues encountered by colleagues, and feed into local, regional and central (Whitehall) strategies to address wider regulatory and trade policy issues (e.g. at EU level);

Prioritise, develop and project-manage plans to address local market barriers, supporting relevant colleagues to deliver these;

Communicate central priorities and campaigns on trade policy and market access issues to colleagues;

Support colleagues holding relationships with a range of stakeholders including government, industry and business to raise trade policy and market access issues, engaging directly where appropriate;

Work closely with DIT and FCO colleagues, as well as wider cooperation between different missions and markets across the region, to ensure a one HMG approach;

Assist key Ministerial (and other) senior visits from the UK;

Support the development of trade policy expertise across the DIT and FCO network;

Support the wider team, where needed, in all high value campaigns;

Raise awareness of Trade Policy within DIT The Netherlands.
The role will require occasional travel in Europe and to the UK.
Essentialqualifications, skills andexperience  
A minimum of 3 years previous or relevant experience working on Trade Policy and Market Access issues, either in a corporate environment (Public Affairs / Government Relations) or in a Government department;

Excellent level of English and Dutch (both oral and written);

Strong written and oral communication skills;

Stakeholder management and lobby skills;

 

 

Good project management, an eye for detail;

Demonstrable analytical skills: the ability to make sense of complex information;

IT proficiency and ability to work across multiple platforms and databases as well as Microsoft office (Word, Excel, Power Point);

Resilience, and the ability to work under pressure on a challenging portfolio independently.
Desirablequalifications, skills andexperience  
University degree (preferable in International Economics, International Law or International Relations);

Some previous experience, or interest in, working on European affairs.
Required competencies  
Seeing the Big Picture, Leading and Communicating, Collaborating and Partnering, Engaging Internationally
Application deadline  
27 June 2019
Grade  
B3 (L)
Type of Position  
Fixed Term, Full-time, Temporary
Working hours per week  
36
Duration of Post  
12 months
Region  
Europe, Eastern Europe & Central Asia
Country/Territory  
Netherlands
Location (City)  
The Hague
Type of Post  
British Embassy
Number of vacancies  
1
Starting monthly salary (EUR) 
3,651,90 (Gross)
Start Date  
15 July 2019
Other benefits and conditions of employment  
The successful candidate will be offered a 12 month fixed-term contract at B3 level. The base salary for this position is € 3,651,90 gross per month, based on a working week of 36 hours. In addition, an 8% annual holiday bonus and a monthly travel allowance are payable. The Embassy currently applies a performance based bonus pay model for local staff.
Applicants must be legally entitled to work in The Netherlands.
The successful candidate will undergo a professional background check; Any job offer is also provisional to a successful security clearance check.
The Embassy encourages a culture of continuous learning. All employees have access to the Civil Service Learning platform which gives access to training to improve job specific skills. Employees are entitled to a minimum number of annual training days.
Visa/passport requirements: Must currently hold the independent right to live and work in The Netherlands and be prepared to ensure that right remains throughout the scope of the contract.
Additional information  
Please note that the deadline for applications is 23:55 on the day mentioned in the above field "Application deadline". We advise you to allow enough time to complete and submit your full application, since only applications completed and submitted before the deadline will be considered.
Please be aware that the deadline for submitting applications is considered to be the time zone for the country where the vacancy has arisen.
Please be advised that the British Embassy will not be able to meet the travel costs incurred when travelling to the interview, nor the costs connected with relocation if offered a position.