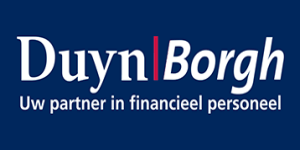 Starter Assistant Financial Controller for 32-40 hours per week - DuynBorgh
Hoofddorp, NH 2132
For one of our clients, an international company, we are looking for a Starter Assistant Financial Controller for 32-40 hours per week. Our client is located in the province of Noord-Holland and is fast-growing.
Are you just graduated or do you have a one or two years of experience in the field of Finance & Control?
Do you have a Bachelor/Master degree in Finance?
And are you accurate and pro-active and did you always want to work in a dynamic, challenging, fast growing and innovative international environment with great opportunities for you to explore?

Then this is the job you're looking for!
Position within the organization:
The Assistant Financial Controller is part of the Financial Control team. A talented international team with quick-thinking financial professionals, generating high-quality reports while working closely with the business.
Result area:
The Financial Control team focusses on constantly improving the process and quality of the actual monthly figures. The result area of this position is to maintain, process and report general ledger transactions. To ensure that all business transactions have been properly and timely recorded ensuring the ledgers for all (international) entities are complete, accurate and that all transactions are valid. Tasks also include month-end reporting, the preparation of statutory reporting and support external audits.
Responsibilities:
Prepare and ensure accurate and timely recording of journal entries, accruals, prepayments and fixed assets entries across multiple (international) entities

Creating and reviewing reconciliations and lead schedules for all balances included in the balance sheet and relevant profit & loss accounts and follow-up on any open items or unreconciled items

Prepare reporting to the relevant authorities

Develop and implement process improvements, document desktop procedures and processes to achieve efficiencies

Proactively pursue business issues that impact the general ledger and evaluate the situation for acceptable solutions

Further development of the Internal Control Framework

Support external audit requirements

Support management in completing special projects, ad-hoc reporting and analysis requests, and other tasks as assigned

Team-up with the Accounts Receivable, Accounts Payable and Business Control colleagues.
Profile:
Bachelor/Master degree in Finance (HBO/WO)

Relevant experience in a corporate environment (1-2 years)

Excellent MS Excel skills

Strong oral and written in Dutch and English. French is a benefit

Experience with IFRS and Exact Globe is preferred

Self-starter with strong team skills

Proven problem solving skills

Good communication skills

Ability to interact with all departments and levels throughout our organization

Excellent time management skills, ability to prioritize and multitask.
What we offer:
You will be part of an ambitious team that is shaping the future of the European fitness landscape. Next to a competitive salary, we offer you a challenging job in a dynamic environment. We are proud of our friendly culture where a down to earth attitude is common. An organisation where you can develop yourself further!

Mocht je interesse hebben in deze vacature en voldoe jij aan de gestelde eisen, reageer dan direct!

Mochten wij voldoende aanknopingspunten zien in je CV dan wordt er zo spoedig mogelijk contact met je opgenomen.​

Met aanvullende vragen over de vacature kunt u contact opnemen met Daniel Atzei.​ Hij is bereikbaar op kantoor van DuynBorgh in Lisse, tel.​ 0252-420415.