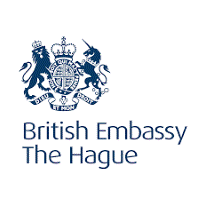 Executive Assistant to the Ambassador - British Embassy
Den Haag, ZH 2514
View Vacancy - Executive Assistant to the Ambassador (NLD20.021)
The British Government is an inclusive and diversity-friendly employer. We value difference, promote equality and challenge discrimination, enhancing our organisational capability. We welcome and encourage applications from people of all backgrounds. We do not discriminate on the basis of disability, race, colour, ethnicity, gender, religion, sexual orientation, age, veteran status or other category protected by law. We promote family-friendly flexible working opportunities, where operational and security needs allow.
Job Category
Foreign and Commonwealth Office (Policy & Political roles)
Job Subcategory
Private Office
Job Description (Roles and Responsibilities)
The British Embassy in The Hague is looking for an Executive Assistant to the Ambassador. This is a key and substantial role, requiring strong interpersonal and organisational skills. It is vital for ensuring the Ambassador delivers his political, economic and consular objectives, bilaterally and in The Hague's multilateral institutions. The jobholder ensures the good functioning of the whole team so that the Ambassador can deliver for everyone. This role operates at the heart of all Embassy business, and has a key advisory function.
Main Roles and Responsibilities:
Managing the Ambassador's time
Diary management: proactively set up meetings between the Ambassador and key contacts; monitor incoming invitations and ensure ongoing communication to keep the Ambassador, the Residence and other Embassy teams up to date on diary commitments;
Act as a gatekeeper for the Ambassador, and as a source of advice;
Anticipate what the Ambassador needs to know, and arrange briefings for the Ambassador in advance of meetings;
Manage the Ambassador's participation in senior level Ministerial visits to The Netherlands, liaising and co-ordinating with stakeholders in both the UK and the Netherlands, and handling their expectations;
Liaise with other Embassy colleagues to prioritise between objectives and make best use of the Ambassador's time so he can deliver for all teams;
Manage arrangements and logistics for the Ambassador's attendance at official external events;
Lead on programmes for the Ambassador's visits to the UK and regional visits in the Netherlands;
Organise the Ambassador's travel;
Manage the Ambassador's expenses and other team budgets.
Events
Supervise the organisation of all events (including meetings) at the Residence, overseeing the work of the Residence Events Manager;
Plan the Ambassador's involvement in events at the Residence (his house).
Essential qualifications, skills and experience
Excellent oral and written communication skills in English and Dutch, with the ability to deliver difficult messages diplomatically (minimum of C1 level for CEFR framework*);
The ability to work effectively within a team and strong interpersonal skills;
The ability to think ahead, think strategically and act on own initiative;
A proven ability to deliver results in a fast-moving, busy, high profile environment;
A high level of discretion;
Excellent customer service skills;
An open and flexible approach (occasionally the position may require the job holder to travel within the Netherlands, work extended hours or work flexibly, sometimes at short notice); and
Strong IT Skills, in particular with Microsoft Office packages.
Desirable qualifications, skills and experience
Basic knowledge of UK government/civil service structures;
Previous experience as a PA/Executive Assistant, ideally working to a high level manager; and
Previous experience of diary/database management.
Required competencies
Collaborating and Partnering, Managing a Quality Service, Delivering at Pace, Engaging Internationally
Application deadline
27 January 2020
Grade
B3 (L)
Type of Position
Full-time, Fixed term, with possibility of renewal
Working hours per week
36
Region
Europe, Eastern Europe & Central Asia
Country/Territory
Netherlands
Location (City)
The Hague
Type of Post
British Embassy
Number of vacancies
1
Starting monthly salary (EUR)
3.743,20
Start Date
2 April 2020
Other benefits and conditions of employment
The successful candidate will initially be offered a one year employment contract at B3 level. The base salary for this position is € 3.743,20 gross per month, based on a working week of 36 hours. In addition, an 8% annual holiday bonus and a monthly travel allowance are payable. The Embassy currently applies a performance based bonus pay model for local staff.
Applicants must be legally entitled to work in The Netherlands.
The successful candidate will undergo a professional background check; Any job offer is also provisional to a successful security clearance check.
The Embassy encourages a culture of continuous learning. All employees have access to the Civil Service Learning platform which gives access to training to improve job specific skills. Employees are entitled to a minimum number of annual training days.
The British Embassy promotes and demonstrates the key values of Professionalism, Respect and Honesty.
Visa / Passport requirements: Candidates must currently hold the independent right to live and work in The Netherlands and be prepared to ensure that right remains throughout the scope of the contract. Additional requirements may become necessary pending EU Exit. If requirements change additional eligibility information will be shared during the recruitment process.
Additional information
* Please note Common European Framework of Reference for Languages: Learning, Teaching, Assessment indicates Level C1 as Proficiency Level which comprehends that a person understand a wide range of demanding, longer texts, and recognise implicit meaning. Can express him/herself fluently and spontaneously without much obvious searching for expressions. Can use language flexibly and effectively for social, academic and professional purposes. Can produce clear, well-structured, detailed text on complex subjects, showing controlled use of organisational patterns, connectors and cohesive devices. For more information please click on the following link CEFR. Please bear in mind in case you are invited for an interview your languages skills are going to be assessed.
Please note that the deadline for applications is 23:55 on the day mentioned in the above field "Application deadline".
We advise you to allow enough time to complete and submit your full application, since only applications completed and submitted before the deadline will be considered.
Please be aware that the deadline for submitting applications is considered to be the time zone for the country where the vacancy has arisen.
Please be advised that the British Diplomatic Missions will not be able to meet the travel costs incurred when travelling to the interview, nor the costs connected with relocation if offered a job.
Please be aware that you will only be able to apply to vacancies for Local Staff roles with the British Government through this official tal.net site (operated by Oleeo). Jobs may be advertised on third party websites, however our adverts will always link back to the official tal.net site. If you complete and send an application through any other site, we will not receive it.