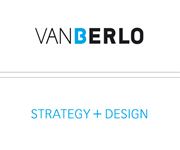 Creative Developer - VanBerlo Agency
Den Haag, ZH 2497
We are expanding our UX team, therefore we're looking for a new member for our The Hague location. Are you looking for a position where you can get hands-on with developing for the internet of things, AR/VR experiences, voice interfaces, smart systems and anything that combines the digital with the physical, as well as the back-end and cloud services? Are you a curious person, always prepared to collaborate? Are you ready to uncover your vast potential and work hard with your teammates to bring your ideas and software into reality? Then VanBerlo is the design agency you are looking for!


What your typical day looks like
You are someone who loves making things and who enjoys experimenting with new technologies in a creative way. You are involved in projects and experiment together with a team of developers, UX designers, product designers and engineers. You think in product-service systems and you have the skills to turn your vision into a working prototype.


Who you are
We're looking for someone with 2-4 years of working experience who wants to work together with us to improve and redefine how products and services are used. A talented developer who helps to transform the channels of our clients so completely, they contribute to the perception of any product, service or brand that rolls out of our studio. You simply refuse to settle for the average, and are always on the lookout for better solutions. Your goal is to make the digital lives of consumers and your own digital life easier, and you know just how to accomplish it. Moreover, you're just a really pleasant person to work with.
You have a degree in Computer Science and Engineering, Artificial Intelligence or Design with a strong focus on technology
You have experience with working in an agile and multidisciplinary environment
You are good at communicating your concepts and ideas in Dutch or English
You can prototype interactive software, services and physical products
You know how to write code that is well structured, testable and documented
You know the ins and outs of the most common web technologies like HTML/CSS/JS
You have experience with React (Native), ES6 and Typescript
You have experience with app development (Android/iOS) and are able to prototype and build native mobile apps.
You are familiar with setting up a backend architecture with Node or Python
You have experience with containerized architectures using Docker or Kubernetes
You know your way around at least one of the major cloud platforms (e.g. GCP/AWS/Azure)
You are familiar with digital design tools such as Adobe XD, Sketch and Framer
What we offer you
An innovative work environment with a large variety of products and projects. Combined with an international creative and dynamic VanBerlo family. Who's experience will not only help you to develop solutions for our clients, but also yourself. We offer you a desk, but we encourage you to work in different areas around the studio as and when it suits your projects.
Who we are
Working at VanBerlo means working alongside some of the best talent in the world. It means facing new challenges in and out of your comfort zone. The people and projects vary tremendously. At VanBerlo we are both thinkers and doers. Teamwork and collaboration is ingrained into our culture, helping us Create the Difference. VanBerlo is made up of extremely enthusiastic, multidisciplinary and socially minded specialists. With such diversity of expertise we can mould the ideas that bridge customer wishes and the need for innovation. It's the VanBerlo mentality that makes working with us a truly unique experience.
The opportunity to further develop yourself at a unique agency merging innovation strategy with execution.
Challenging projects in the front end of innovation for a wide range of international clients
An inspiring work environment with 90+ enthusiastic colleagues