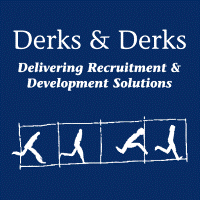 Business Development Manger - Derks & Derks B.V.
Tilburg, NB
Offer
a challenging job within a Dutch Life Science consultancy
contribute to the development of pharmaceuticals and diagnostics
good secondary benefits
Organisation
Our client is a Dutch Life Sciences consultancy and operational support firm, located in Tilburg and Oss. The company is dedicated to the development of pharmaceuticals and diagnostics. Their clients are leading pharma companies as well as innovative biotech start-ups. This position is located in Tilburg.
Position
As a Business Development Manager you are able to drive the business forward to achieve our clients ambitious goals. The ideal candidate is energetic, a team player and a self-starter. You will be a first contact person for (new) clients and you will coordinate and interact with various team members. This position will require significant field activity, as you will lead the business development activities. You will do this via acquisition of projects in different stages of drug development. This includes following up with leads, coming up with value propositions, writing proposals, negotiation and closing with all kinds of clients, ranging from SME's to worldwide multinationals. Other tasks may include developing and implementing strategic and operational plans to achieve revenue objectives. You are responsible for go to market strategy and execution for expansion within Europe and Asia. Besides this you will contribute to appropriate processes to provide timely and accurate management information related to forecasts, market intelligence and industry trends. To do so you will build and maintain a strong network within pharmaceutical and biotech companies. As a Business Development Manager you will also identify and attend relevant conferences. Within this position you report directly to the management team.
Profile
relevant master degree (life sciences preferred)
a minimum of 5 years commercial work experience in pharmaceutical and/or life science industry
excellent communication, relationships management and sales skills
knowledge on the way integrated drug development programs are designed and executed
fluent in English, German is a plus
brings a significant network in the innovative life sciences sector
willingness to travel
enthusiastic and easy connector with excellent negotiation skills
result-driven and customer focus
multi-tasking and prioritization capability
Response
Interested? Please send your resume and motivational letter by e-mail, with reference to WL/19-050-MD, to Djamila Hagemans: info@derksenderks.nl.
For further information, please call Djamila Hagemans at number +31 (0)33 472 80 87.
An individual assessment may be part of the selection procedure.
Our Client has chosen Derks & Derks B.V. as recruitment agency for this assignment. We request therefore to send any application or other response to Derks & Derks.