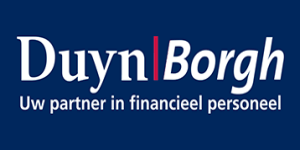 Assistent Controller goede doelen organisatie! - Duynborgh
Den Haag, ZH 2518
For one of our clients, an international social foundation, we are looking for an Assistent Controller on Bachelor level. Our client is located in The Hague.


Are you looking for a divers job?
Would you like to work for an international charity organization?
And would you like to work for an organisation where much can be improved and professionalized?
Then this is the job for you!
Assistant Controller

The financial administration in The Hague is handled by a small team that is currently in the process of further professionalization. Within this team a vacancy arises for an Assistant Controller, who is partly responsible for the (consolidation of) different entities within the group.

Together with your colleagues you manage the financial administration (including the sub administrations). These sub-administrations concern the head office, the country offices and the 45 thrift stores. In addition, you ensure the correct, timely and complete the processing of the mutations in the administrations, you implement internal control measures on the processing of the data and you supervise the adequate application of the accounting principles (RJ640 / 650). The financial administration forms the basis for compiling the (management) reports, which are prepared for internal and external purposes.


Position in the organisation
The assistant controller reports to the controller. You will be part ofthe Finance team.


Your tasks:
Under the leadership of the Controller, you implement the planning & control cycle (head office, country offices and 45 thrift stores).
This includes:

Compiling and managing the financial reporting & accounting manuals, including signaling any bottlenecks in the work processes and making proposalsfor improvement

You carry out (substantive) supervision ofthe accuracy, timeliness and completeness of the administration at the head office

You manage the financial administration

Co-compiling financial reports (budget, realization,forecasts), including implementation ofthe consolidation process

Compile reports for external purposes based on the reporting wishes and requirements of the (external) donors

You carry out (substantive) supervision ofthe accuracy, timeliness and completeness of the records and reports ofthe stores and country offices (these are conducted on location)

You periodically carry out audits at the stores

Contributes to the compilation of the consolidated and statutory annual financial statements together.

Knowledge and skills:
HBO working and thinking level (completed HBO study in business administration and / or business economics)

Experience with conducting financial administrations and with compiling (consolidated) financial reports

Minimum 5 years relevant work experience

Affinity with a charity organization and/or knowledge of the organisation's services.

What do we offer:
Gross monthly salary of min 2.841,- and max 3.865,- EUR per month based on a 36-hour working week and depending on relevant years of experience and education

Excellent pension

One year contract (32-36 hours) with a possibility of extension

.

Mochten wij voldoende aanknopingspunten zien in je CV dan wordt er zo spoedig mogelijk contact met je opgenomen.​

Met aanvullende vragen over de vacature kunt u contact opnemen met Daniel Atzei.​ Hij is bereikbaar op kantoor van DuynBorgh in Lisse, tel.​ 0252-420415.