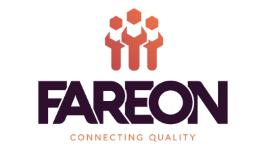 Administratief medewerker, Salarisadministratie Easyflex - Fareon-Z Nederland B.V.
Apeldoorn, GE 7332
About us :
Fareon Nederland was established in 2016, and we are a young, ambitious, fast-growing, temporary staffing company oriented also on projects, built on 12 years of experience. Currently NBBU member and SNA certified.
Our passion is to work in a international environment, we have in our internal team of Slovak, Czech, Polish, Romanian, Dutch people and we focuse to deliver quality technical people for fair-play clients mainly for Dutch market and stable projects for technical people in the EU. We believe in Europe and work mobility and future of fast thinking, flexible companies.
We working mainly in areas cnc, metal, installation and electro technical and building industry, with skilled professions such as welders, cnc programmers, electricians, plumbers, air duct fitters, sprinkler fitters, painters, sprayers etc.
Starting as a family company, currently with staff of 11 internal employees and 148 daily sent out laborers working through whole Netherlands and Belgium with 56 running projects. We have located our offices in mid Europe in Slovakia, (soon Romania and Poland) and in Netherland Apeldoorn and Woerden for now, looking for extending soon activities in south and north of Netherlands.
We work in openly, friendly environment and everyone is giving daily best of his own to grow together. We welcome every input for how to get better, slimmer and faster in this fast changing business.
Currently we look for:
Strengthening our back office in Apeldoorn independant person with ambitions to become a leader for a backoffice team.
Person that has no problem to communicate in English and enjoys to work in international environment
Candidates with experiences in uitzendbranche and knowledge of Easyflex software, or similar 'uitzendsoftware'
Some of other tasks include :

Running backoffice services
salaries and invoicing in Easyflex, connections to basecone/Twinfield
hours registrations
monitoring the changes in "uitzend wet- en regelgeving"
calculations of costprices with cooperation of our external supports
have passion in fast changing word of uitzendbranche
making bruto-netto calculations
debtors / creditors administration
What we offer:
good possibilities for growth
open informal atmosphere in company where you can be part of forming new processes that work best for all people
Salary staring between 2900-3800 / month based on experiences and good results for the company will be rewarded
€ 2.900,00 - € 3.800,00 /jaar
bonuses